Want more interviews?
Get roasted 🔥
I've hired many developers over the years and I've gotten good at understanding if a candidate is good or not based on their resume. I usually require a few seconds to see if we're going to be a good match or not.

What the hell is a roast? It's a 10-minute personalized video, packed with my expertise and easy-to-implement advice that will improve your CV. Sent to you within 48 hours. It looks something like this video on the right.
💸 I will help you make sure your CV is just right.
🦄 I will take a hard non-scripted look at your Resume, like I would do for a real position.
🍗 P.S. This landing page is still a work in progress and the 28$ is the discounted price to gather testimonials.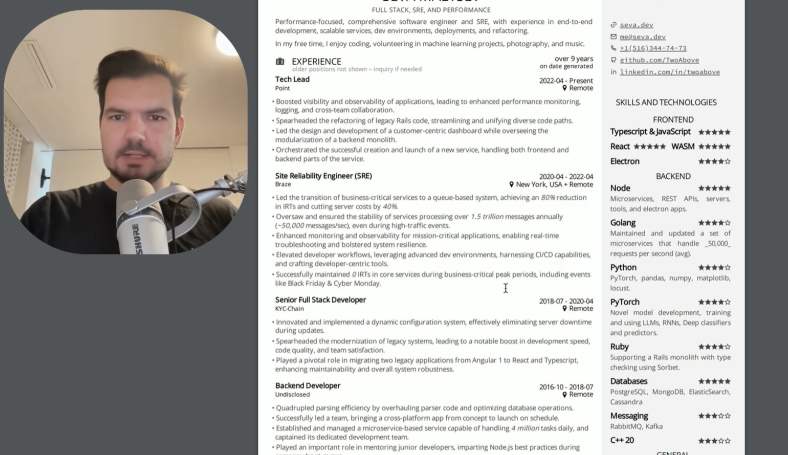 💸 Young software developer looking to switch jobs and sending out CVs but getting no callbacks?
🦄 Senior Developer who recently joined the job market and unsure if your CV is still good enough?
🍗 Or just in general, looking to get some edge on the competition with your CV?
What value you get from the roast
I'd like to say it straight — if you're a software engineer looking for a job — the roasting will be of great value to you. This service is basically me taking a hard look at your resume as a CTO and commenting on all the good and the bad parts — without any prepared texts — real live reaction to what you send and real-time advice. Here's the breakdown:
📷 Up to 10 minutes of me explaining my thought process when I see your CV for the first time. All the good and the bad things. You'll know immediately your strengths.
💼 I will be commenting real-time about what recruiters focus on and what they will see when they open your CV.
🦄 I will tell you how and what to change to stand out from the stack of resumes that an engineering manager usually gets.
💡 You will find out how your resume does in the real world scenario, when a real CTO sees it for the first time. I will be fully transparent with you.
🥇 You wil understand what is your perceived level based on the experience that you list.
✅ You will improve your chances to land that dream job you always wanted.
💸 That's it, I'm not a sales guy.
Over 1,000 15 engineers CVs were happily roasted.
I started this on October 22, 2023 and have already roasted quite a few CVs from different engineers. Everyone was happy with the results. Again, I'm not a sales guy, but here are some of the testimonials
Vadim gave great feedback on my resume. He showed me places where I had flaws in my approach to writing a resume, and ways to fix them. He gave great insights into his thought process during the roast. Did I say that he did the whole thing unscripted, without looking at the resume before opening it?

All-in-all, I would recommend his roast to everyone with a resume: a second, fresh look at it never hurts!

Wow thanks for your prompt reply. Very pleased with the feedback. I had more information in a previous cv but i thought of making it lighter. Will re-add and try find a balance on the volume of text per job. Thank you so much, will review feedback again.

Thanks for pointing out the issues with my resume! Vadim took apart my CV and gave me a lot of very good advice on what to change.

Quality Assurance, Ukraine

As for feedback, I think you went through how a recruiter would check the CV which is cool to see it in this way, and for the testimonial, would you like me to write it now or should I try to update the CV and see the result and write it when I got a job :) ?

Software Engineer, Turkey

Vadim gave me some great feedback with constructive critique as he saw my resume and portfolio in real-time, which gave me a good idea of how others might view them within the first few seconds (which is critical). I'll be implementing his suggestions to help stand-out from the crowd.

Director, Web Technology, USA

Thank you, that was really excellent feedback. My friend is implementing your suggestions as we speak and the confidence in the job hunt has grown exponentially. Amazing work, thank you.

Vadim's review was really useful and a bit eye-opening.

I've had HR's take a paid professional look at my resume to help me improve it, but they usually are not deep involved with technologies you're working with, so Vadim provided a helpful insight

Software Engineer, Armenia

It was really great to have specific insightful feedback from you. Especially when it comes to which sections/information's are unnecessary.

I handed Vadim the tough job of reviewing a resume that I've been polishing for years, and he still provided some awesome feedback that I could use right away. I'll definitely be asking for another of his thorough reviews whenever I hit the job market again!

Senior Software Engineer, USA

Hey Vadim, thanks for your nice suggestions, those were really useful. Its always different to ask for opinions from a complete outside rather than a friend or someone known to you. Already working on the improvements. Cheers!

Head of Engineering, Berlin